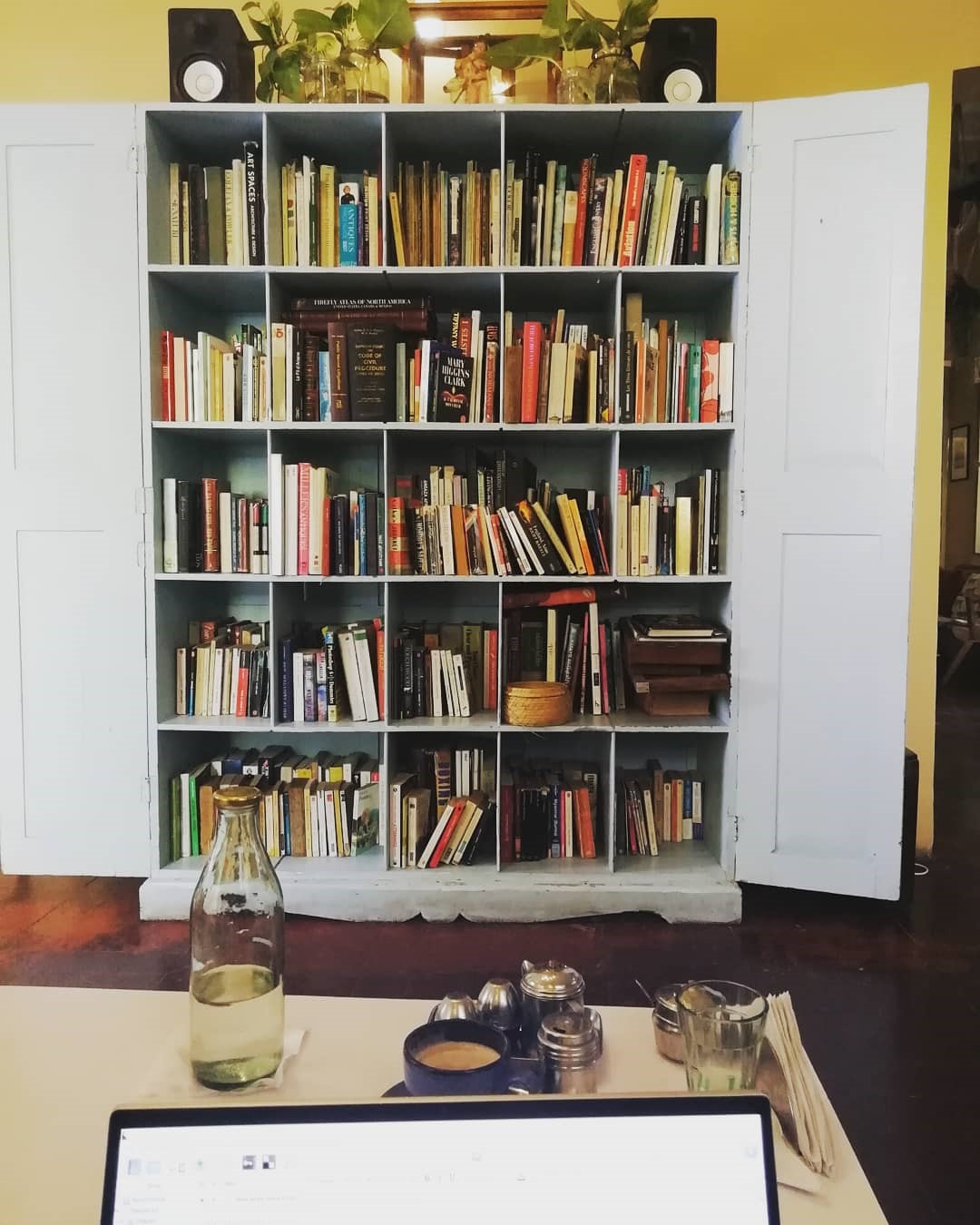 COMFORT, aPRIL 2021
One thing I miss about having a "permanent" home (meaning somewhere in the USA) is my collection of books. When I left NYC I bequeathed my nephews with a pretty large collection, most of them around spirituality, psychology, self-help, with a good dose of fiction and nonfiction as well. They probably learned more about me through that collection than they had in the 20+ years of their lives. Maybe more than they cared to learn.

I loved having books in every room. I found it comforting in some way, held in the realm of so many possibilities. I didn't read all of them but I liked the potential.
I probably read the most during my employment at The New Yorker magazine, having access to so much selection. I loved to be able to talk to people about recent publications and to hear other's experience of reading. I would collect all the different sized books with colorful binds and arrange them in my apartment so other people would catch glimpses when they visited.
When I moved to Bali I began to read less and less, until there was a period in which I don't think I read anything larger than an online article for over a year. I was so consumed with my internal world and all the changes happening within that the external world didn't hold much interest to me. Eventually though I began to long for some of my old books as I began to teach more and more. Some of those books were crucial to my learning and I wanted to share that information. I started to order ebooks out of convenience, but was never able to throw myself into reading off my ipad, phone or computer. So, I would pick up a hardcover book every now and then, until once again I had a good little stash in Bali. With another move I left the stash with a friend…just in case I returned. It's been 4 years and it doesn't feel like there is a return to Bali in the near future, so here I am again, purchasing book by book, restocking some old and adding some new.
There's a café in Pondicherry - Cafe desArtes, that I've been frequenting. It has the vibe that I have been wanting…a place where I can sit for a few hours, not in the way of anyone, have some good coffee and write on my computer. I often sit near this pictured bookcase and stare across looking at the titles, wondering how each one got there; fiction, nonfiction, history, architecture, gardening…so many different genres. Others come up to the shelf and peruse, mostly not touching anything but just looking. Books are magnetic with mystery, history, fantasy, reminding us of just how incredibly creative and inspiring humans can be when they want to be.